Photo caption: Electrical Technology Instructor Peter Martin talks with freshmen during orientation.
Nashoba Valley Technical High School started the 2021-2022 school year with its largest freshman class in nearly 35 years.
In all, 208 freshmen – the largest incoming class since 1987 – are attending Nashoba Tech, an increase of about 25 from last year. And all of them are from within the district, which includes Ayer, Chelmsford, Groton, Littleton, Pepperell, Shirley, Townsend and Westford.
That number includes significant increases in the number of students from the western portion of the district, especially Pepperell and Townsend.
Superintendent Dr. Denise Pigeon believes the large class of freshmen can be attributed to "increased interest from students and families in the value of technical education and preparing for careers."
"We are so pleased to be able to open full time and in person," Pigeon said.
Like all schools across the country, Nashoba Tech was affected by the pandemic, with students coming to school for technical education but staying home, for the most part, for academics. This year, students are all being taught on campus for both technical and academic learning, with a mask mandate in place.
Pigeon said Nashoba Tech is also fully embracing the Acceleration Roadmap shared by the state Department of Elementary and Secondary Education, a program being overseen by Principal Jeremy Slotnick.
The Acceleration Roadmap includes three areas of focus: fostering a sense of belonging among students and families; continuously monitoring students' understanding; and ensuring strong grade-appropriate instruction.
"We are excited for the challenge this year presents and know our staff and students will be able to step up to excel and overcome the education challenges that the pandemic has presented.
"One way we sought to increase a sense of belonging for students and families," Slotnick said, "was by adding a summer position for engagement facilitators who reached out to every NT family with emphasis on students who had struggled with attendance or tardiness the previous school year. In addition, we are setting goals for student attendance and participation in extracurricular activities.
"Finally," he said, "our Dean's Office is evolving to include social-emotional learning and improved student self-esteem in addition to its more traditional, discipline-based role."
Slotnick said Nashoba Tech is creating an assessment calendar that will provide teachers with collaborative time for analyzing data to make decisions that will improve teaching and learning.
"We are working to ensure grade-appropriate instruction by continuing our work with Universal Design for Learning, which will provide supports for challenges that students are likely to face before they struggle," Slotnick said. "We have also identified academic and technical support for students that will not require them to be pulled out of classes or shop during the day."
Art Instructor Robin Monaco talks with incoming freshmen, including Caio Saraiva (Chelmsford), center, and Zachary Sikorez of Ayer, during orientation.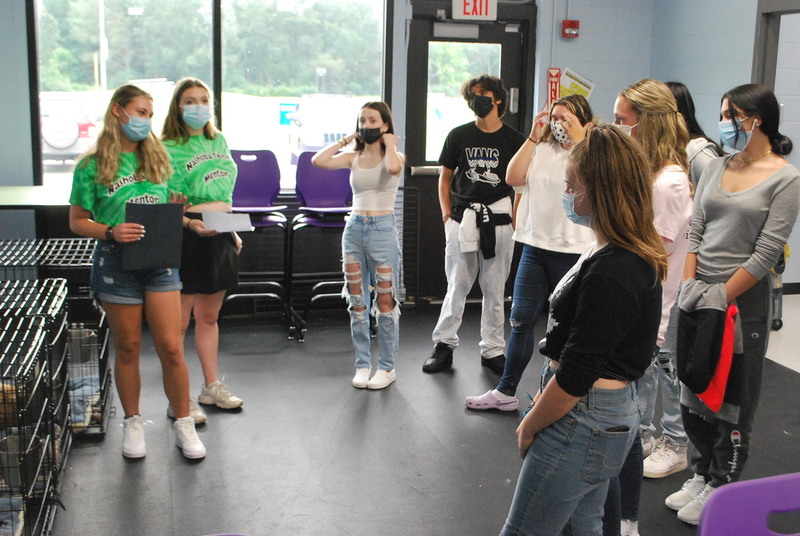 Mentors Ayva Parsons, left, of Pepperell and Elizabeth Paff of Townsend tell freshmen about the Veterinary Assisting program during orientation.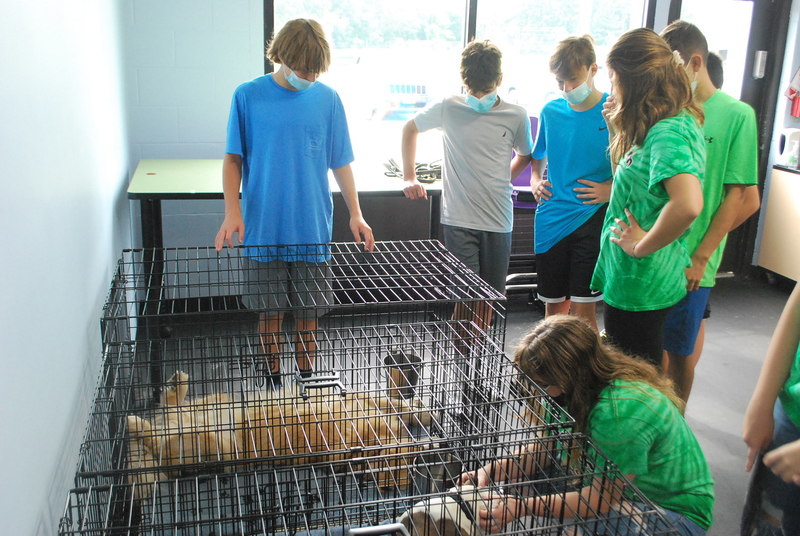 Freshmen, from left, Chase Carney (Chelmsford), Matthew Bonini (Ayer) and Colby Catterton (Shirley) watch as mentors Carli Cogliano (standing) and Ellie Barnoski, both of Chelmsford, talk about the Veterinary Assisting program during orientation.