Caption: Students and staff from the Electrical Technology program at Nashoba Tech got a behind-the-scenes tour of Gillette Stadium in Foxborough to see the inner workings of a major sports and entertainment complex.
It was an electric time at Gillette Stadium in Foxborough recently for a group of students from Nashoba Tech.
Patriots game? No. Taylor Swift concert? Not that either. Monster Jam? Three strikes, you're out.
Students from the Electrical Technology program at Nashoba Tech spent a recent day getting a behind-the-scenes tour of the Gillette with the director of facility operations for Kraft Sports + Entertainment, Jim Kelly.
According to instructor Robert Baker, the tour had been in the works for about six months, and the students were able to get a rare close-up look at how a major sports and entertainment facility works.
"While we were there, they were setting up the field for a New England Revolution soccer game," Baker said. "They were also making preparations to set up for Monster Jam and three nights of Taylor Swift concerts, as well as a slew of private events, like the NFL draft and several high-school proms."
Kelly took the students and staff into areas that members of the public rarely see, including electrical rooms, mechanical rooms and IT rooms, and they were able to tour the sites where construction is currently taking place, including installation of a new video screen that will be one of the biggest screens in the world, at over 22,000 square feet.
They were also able to meet and talk to member of Kelly's team, including electricians at Murphy Electric and engineers at UG2.
"It was very clear to me, from the moment we got there, that James had his hands full with everything going on at Gillette Stadium," Baker said. "Despite that, he took several hours out of his already busy day to show us around. He went above and beyond to show our students that electrical isn't just lights, plugs and switches at your home. He explained in detail the how and why behind the function of Gillette Stadium's various electrical and low-voltage systems. He encouraged the students to ask questions every step of the way of the tour and always had answers that were thought-provoking yet easy to understand.
"The students were in awe."
Instructor Peter Martin said a highlight of the tour was learning how the new giant screen was installed and "how all of the individual monitors work together for one picture, and the electrical and data requirements that it took to complete such a giant project."
Martin said the students also heard about how the Kraft Group is focused on alternative energy sources, such as cogeneration, solar power and a fuel cell plant.
"This was an excellent chance for students to learn about another career opportunity that exists within the electrical field," Martin said."
Baker said that thanks to Kelly, "these kids got an experience that will probably never be replicated, which, in turn, created memories all these kids will cherish for a lifetime."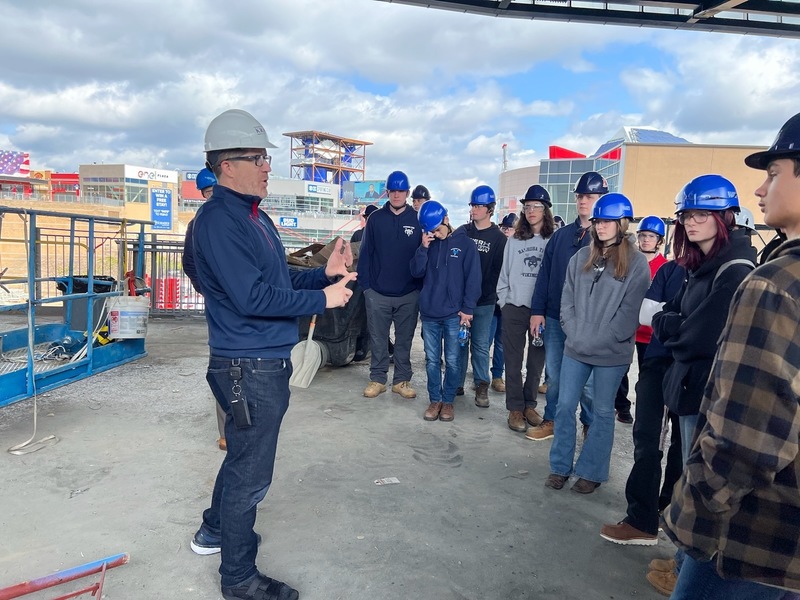 im Kelly, director of facility operations for Krafts Sports + Entertainment, talks to students in the Electrical Technology program at Nashoba Tech during a recent tour of Gillette Stadium.