(Photo caption) On the Brattan Industries job site in North Andover with Makenna Pearlman are from left, Tom Gendron, David Patulak, Colin Mitchelll, John Mansfield and Eric Legere.
When Makenna Pearlman earned her journeyman electrician license on February 23, it was a historic day not just for her, but also for her alma mater.
Pearlman, at the tender age of 22, became the first female graduate of Nashoba Tech to earn a journeyman's license.
In January 2020, about a year and a half after graduating in June 2018, Pearlman landed a job with Brattan Industries, a commercial electrical firm based in Littleton. Three short years later, she achieved something no other NVTHS grad had.
"Every year, we hang up posters and spread the message that girls can do it, too," said Robert Baker, one of the Electrical Technology instructors at Nashoba Tech. "Up until Makenna, it kind of felt like wishful thinking. But Makenna changed that. I can now look my students in the eye and tell them, 'Girls can do it, too. If you don't believe me, ask Makenna Pearlman.'
"Makenna did it," he added. "She worked hard in shop. She went out on co-op. She worked full time, all while taking code classes at night. And now she passed the exam and is a licensed electrician. She's a trialblazer."
That's a word one of Pearlman's co-workers also uses.
"She's definitely a trailblazer," said David Patulak, who works with Pearlman on a work site in North Andover. "She's blazing forward for others to follow."
The current job site involves the wiring of conveyor belts, not an easy task for seasoned electricians, much less a newly minted journeyman.
"Makenna knows some of the intricacies of conveyors," said her foreman on the site, Tom Gendron. "If there's a path to getting there, she'll get there. She'll be pulling plans apart if she has to."
"She makes it easy for the rest of us," Patulak said. "She's not afraid to jump in and get to work. One day I was carrying a 150-pound pole with someone else – I didn't know who -- and I turned around and it was Makenna on the other end."
Gendron added with a laugh, "And he had the light end."
'MONEY'S BETTER'
Pearlman knew before she even started high school that she wanted to work in a trade. That's why she opted to attend Nashoba Tech instead of Ayer Shirley Regional, her hometown school as a Shirley resident at the time. (She now calls Leominster home.) And the technical program she eyed first was not Electrical Technology.
"I almost went into Automotive Tech, but then I heard the money's better in electrical," she said.
She's not wrong. The average journeyman electrician in Massachusetts makes just a hair under $63,000 per year; that jumps to $79,700 for a master electrician, the next rung.
After choosing Electrical Technology, Pearlman soon landed on the radar of Baker and the his fellow instructors, Peter Martin and William Murphy. She was selected to attend the Massachusetts Girls in Trade Conference and Career Fair in Boston as a sophomore. For her last year and a half at Nashoba Tech, she worked at Griffin Electric in Holliston through the school's Cooperative Education program.
Pearlman is just as fond of the teachers she had at Nashoba Tech as they are of her.
"Mr. Murphy taught code really well, and the same thing with Mr. Martin," she said. "Mr. Baker was more of a hands-on instructor. He pushed us to do much better. Mr. Baker was definitely one of my biggest supporters."
So much so that he invited Pearlman back to the school on March 8 to talk with current students about her pathway to success.
Baker said it's no coincidence that as Pearlman's star began to rise in the electrical field, the number of girls entering the Electrical Technology program also began an upward trajectory.
"Because of Makenna, we are about to have a bunch of female graduates who will go on to become licensed electricians," Baker said, mentioning two by name, Rachel Taylor (Class of 2020) and Alyssa Morrill (Class of 2021).
"They will be electricians in the next year or so," he added. "Makenna normalized all of this, and those girls followed her lead. I'm also confident that sophomores Kierah Bongiorno and Isabella Palmer will, too. We just had seven more female freshmen join the shop. They all know and believe they can become electricians, too. Makenna did this."
'SERIOUS HEAD FOR DETAILS'
Back at the work site, Pearlman admits she's happy that other young women are following her lead into the electrical field. ("It's cool," she said.)
Consider her co-workers (which includes fellow Nashoba Tech grad John Mansfield, Class of 1995) impressed that Pearlman can more than hold her own on the job.
"She has a serious head for details," Patulak said. "From day one, we worked well together. She's not afraid to work."
They also marvel at Pearlman's ability to remember long sequences of numbers, a talent she shrugs off.
"A lot of these conveyor systems have long numbers on them, and there's a pattern to them," Patulak said. "Makenna just gets it."
"It comes easy for me," she said. "I have a really good memory, in general. I'm like an elephant. A lot of it is useless information."
What's not useless information is that the future in electrical is bright for Pearlman and other women who choose the career.
"There's a lot of money to be made as females in trades," said Colin Mitchell, another of Pearlman's co-workers, adding that certain job sites need a certain percentage of women, minorities and disadvantaged employees.
"We're always going to need electricians, so I'm not afraid of being out of work," she said. "That's why I wanted to learn a trade."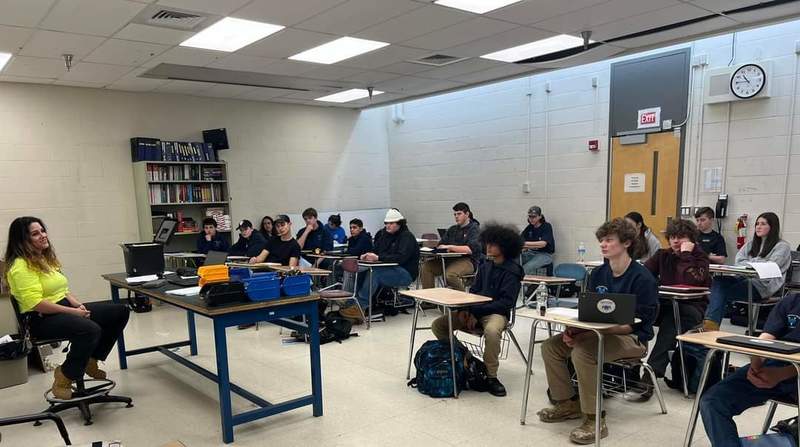 Makenna Pearlman, a 2018 graduate of Nashoba Tech, talks with current students in the Electrical Technology program on March 8. Pearlman is the first female Nashoba Tech graduate to earn her journeyman electrician license.