Jordan Andre of Townsend (pictured) and Edwin Mercado of Ayer have been selected as January's Students of the Month at Nashoba Tech, based on the school's "Portrait of a Graduate" attributes: resourceful, responsible, resilient, respectful and ready.
Jordan Andre, daughter of Steven Andre and Elizabeth Silva, is a senior in the Design & Visual Communications program. She is on the yearbook staff and competes in three sports for the Vikings – cross-country, indoor track and spring track. She is an honors student and plans to continue in the field of graphic design after graduation from Nashoba Tech.
Jordan was nominated by two teachers.
English instructor Bruce Sullivan wrote: "Jordan is an outstanding student who excels in and out of the classroom. She is a hard-working academic student who writes at a college level. Her care and concern for other students is very admirable. Her senior research paper on the impact of color, font and layout choices to an overall work is compelling and informative."
Design & Visual Communications instructor Derik Rochon wrote: "While Jordan seems very quiet, her work speaks for her. She works very hard in shop and strives to do her best. Her work product is always professional and shows great skills. Jordan also is one of the students who have taken on the challenge of the yearbook, and I can see that she pushes herself on every aspect of it. I am proud to have her as a student in Design & Visual Communications." Edwin Mercado, son of Ramon Martinez and Deidra Deocleciano, is a freshman in the Automotive Technology program. He is an honors student who plays linebacker for the football team and is a member of the Culinary Club.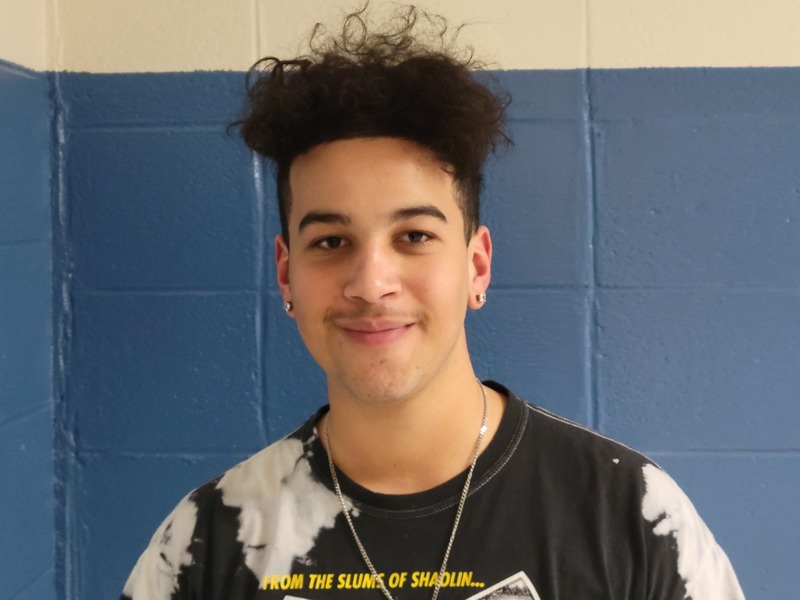 Edwin was nominated by two staff members.
Math instructor Samantha Sullivan wrote: "Edwin is one of the most extraordinary freshmen I have had the pleasure to teach. He is extremely respectful toward, and tries to learn lessons from, all staff and people he interacts with, which has shown in his exploratory weeks, when he thrived in each shop. Edwin is always prepared for class and ready to take on the next challenge. I think Edwin sets an example for the freshman class."
Health Assisting instructor Theresa Ristaino wrote: "Edwin is one of the nicest students I have ever met at NT. He only spent a week in Health Assisting but left a lasting impression. He was interested and engaged the entire week. He was respectful to me and to other students. He enthusiastically participated in every activity and was eager to learn each topic we covered. Nashoba Tech certainly benefits because of students like Edwin."