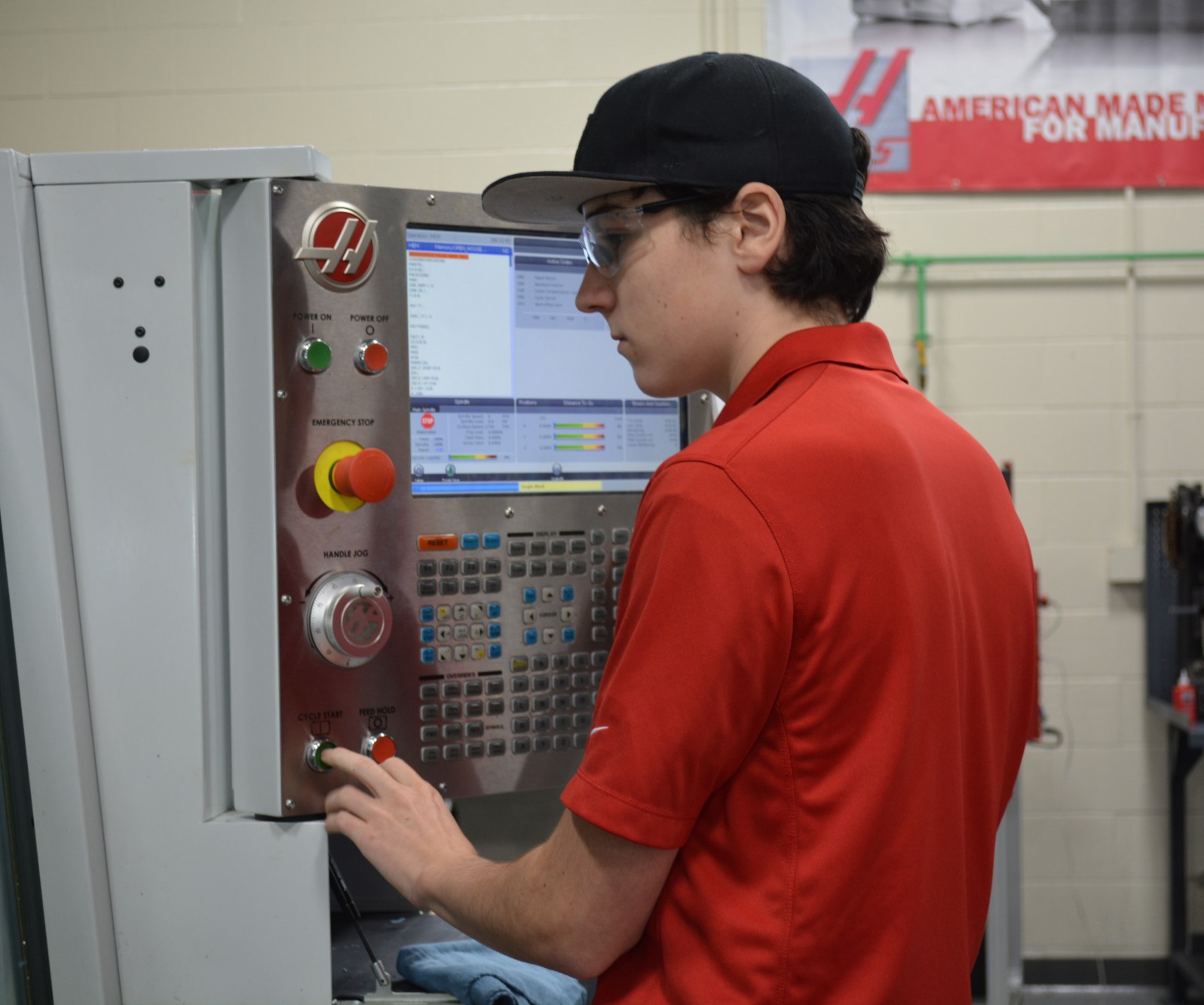 Students in the Advanced Manufacturing receive entry-level training through hands-on experiences that duplicate the operations utilized in industry. Over the last four decades, the Manufacturing industry has continued to grow and change. Research has projected a dramatic increase in the demand for skilled workers in the manufacturing field. Thanks to a $500,000 grant through the Massachusetts Skills Capital Equipment program, the program has been completely remodeled and updated to create a truly state of the art training facility for advanced manufacturing.
The course is designed for students to progress from beginning machining, to intermediate level, to advanced manufacturing. The course starts with an introduction to safety. At the beginning level, students learn manual machining. Students then move on to computerized, programmable machines. The programming of these machines provide a solid introduction to machine programming in a user friendly manner, and prepares students for more advanced equipment requiring the use of G-Code.
While students work with actual production materials at the beginner and intermediate level, they will familiarize themselves with G-Code programming in our simulator room. Students practice on both Haas and Fanuc simulators before moving to the advanced machines on the shop floor. Advanced manufacturing machines include a Fanuc Robo Drill, Haas Lathes, and Haas Mills.
At each level students will perform basic machine functions, run production data, test and calibrate inspection instruments, measure and record dimensions of products (both in process and finished), and apply mathematical calculations to ensure accuracy. Students will perform various bench tasks, such as debur, clean, polish parts, tap holes and prepare parts for secondary operations. Projects will use plastics, aluminum, CRS steel, and HRS steel, allowing students to master the unique properties of each commonly used material. Finally, students will learn basic machining theory, blueprint reading, and basic shop math including right angle trig.
Graduates find employment as machine operators, machine tool salespersons, maintenance machinists, tool inspectors, production machinists, parts inspectors, CNC (Computer Numerical Control) operators, job shop and experimental machinists. With advanced training graduates go on to become CAD/CAM/CNC specialists, tool and die makers, supervisors, instrument makers, and tool designers, or to self-employment.
Students are recommended to take Physics in Grade 11.
Technical Courses
Career Exploration (100) – 18 Credits

Advanced Manufacturing 9 (324) – 12 Credits

Advanced Manufacturing 10 (313) – 24 Credits

Advanced Manufacturing Theory 10 (313T) – 5 Credits

Advanced Manufacturing 11 (316) – 34 Credits

Advanced Manufacturing 11 Theory (316T) – 5 Credits

Advanced Manufacturing 12 (319) – 34 Credits

Advanced Manufacturing 12 Theory (319T) – 5 Credits