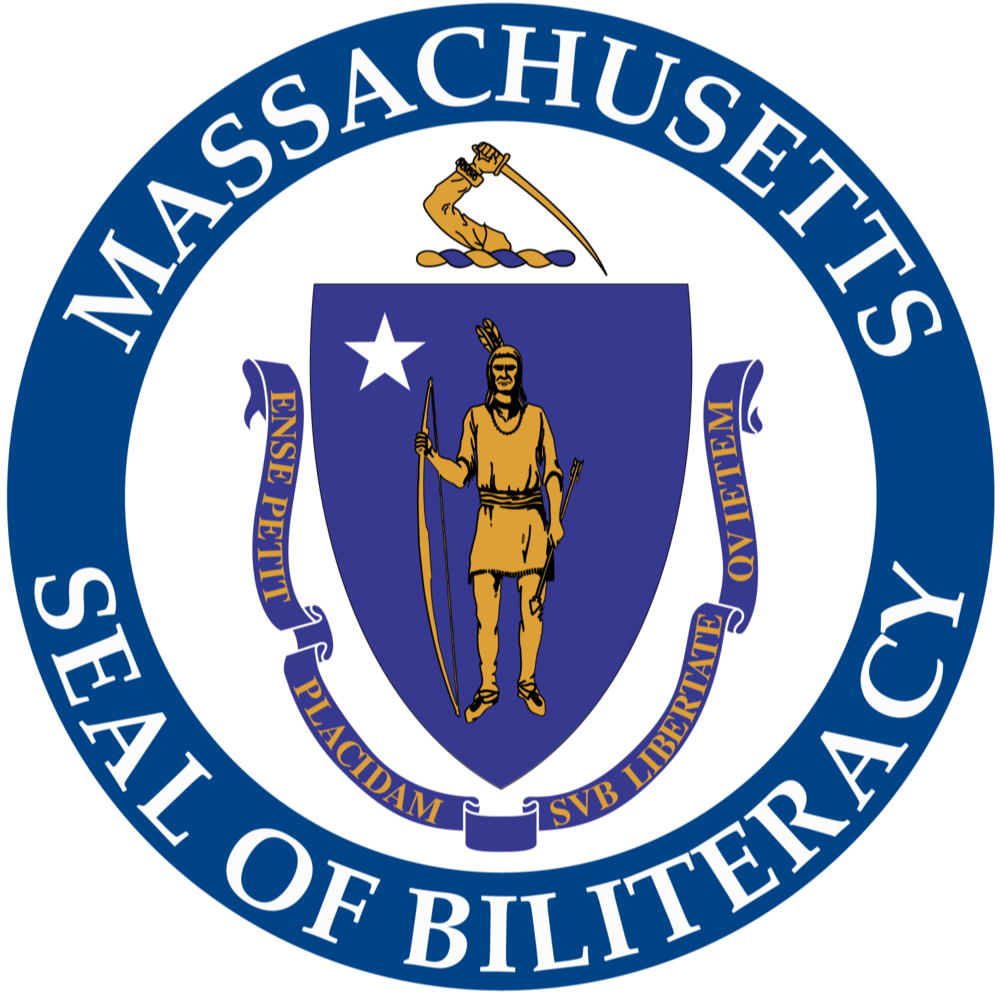 WORLD LANGUAGES & SEAL OF BILITERACY
Spanish courses at Nashoba Valley Technical School are based on levels of proficiency: Novice, Intermediated A/B, or Advanced. This reflects a nation and statewide push to include proficiency levels in the course names to better reflect how proficient the students are in Spanish, while still allowing for the "traditional" course levels that are accepted by colleges.
Novice level speakers can communicate short messages on highly predictable, everyday topics that affect them directly. They do so primarily through the use of isolated words and phrases that have been encountered, memorized, and recalled. Novice-level speakers may be difficult to understand even by the most sympathetic interlocutors accustomed to non-native speech.
Speakers at the intermediate level are distinguished primarily by their ability to create with the language when talking about familiar topics related to their daily life. They are able to recombine learned material in order to express personal meaning. Intermediate level speakers can ask simple questions and can handle a straightforward survival situation. They produce sentence-level language, ranging from discrete sentences to strings of sentences, typically in present time. Intermediate-level speakers are understood by interlocutors who are accustomed to dealing with non-native learners of the language.
Speakers at the Advanced level engage in conversation in a clearly participatory manner in order to communicate information on autobiographical topics, as well as topics of community, national, or international interest. The topics are handled concretely by means of narration and description in the major time frames of past, present, and future. These speakers can also deal with a social situation with an unexpected complication. The language of Advanced-level speakers is abundant, the oral paragraph being the measure of Advanced-level length and discourse. Advanced level speakers have sufficient control of basic structures and generic vocabulary to be understood by native speakers of the language, including those unaccustomed to non-native speech.
Spanish courses are offered as Spanish I-IV. All Spanish courses are five credits.
SEAL OF BILITERACY
Here is the registration link to apply: Registration, Seal of Biliteracy
Students at Nashoba Tech have diverse skills and talents and for many, that includes the career readiness skill of multilingualism. Nashoba Tech is proud to award all qualifying graduates with the Massachusetts State Seal of Biliteracy.
The Massachusetts State Seal of Biliteracy is an award provided by state approved districts that recognizes high school graduates who attain high functional and academic levels of proficiency in English and one or more partner languages. Our vision is to help students recognize the value and tangible benefits of being multilingual. The State Seal of Biliteracy takes the form of a seal that appears on the transcript and diploma of the graduating senior and is a statement of accomplishment for future employers and for college admissions. (Taken from DESE)
To qualify for the Massachusetts State Seal of Biliteracy, a junior or senior student must show their English proficiency by earning a Proficient or Advanced score on the 10th grade ELA MCAS* and also fulfill all of the graduation requirements of Nashoba Tech.
In a partner language, students will take a district approved assessment or complete a portfolio to show at least an Intermediate High level of proficiency, as defined by ACTFL. This testing will be done during the school day** and the cost is $30 per student.*** Students may test in any language and need to show literacy. Students must speak and write, for example, if both exist in the partner language.
Awards and recognition will be given to all qualifying students in the spring of their senior year. They will also be recognized at the Awards Night and Graduation. Students are encouraged to tell colleges and careers about the candidacy for this prestigious recognition.
Many state universities give course credit for Seal of Biliteracy Recipients. This list is growing and at this time includes: Bridgewater State University, Bunker Hill Community College, Cape Cod Community College, Massachusetts Bay Community College, Middlesex Community College, Mount Wachusett Community College, North Shore Community College, Northern Essex Community College, and Salem State University.
Nashoba tech values the diverse backgrounds and experiences of our students and encourages life-long learning of languages and cultures here at our school, at home, and in the community.
Please Contact Ms. Amy St. Arnaud at astaranud@nashbatech.net if you have any questions.
To register for a test, please complete this form.
*There are other paths and if you think you qualify, please see your guidance counselor or Ms. Amy St. Arnaud, Spanish Teacher.
**If you already have a transcript showing an Intermediate High / B2 level of a language, you may show it to Ms. Amy St. Arnaud for consideration
*** Please see an administrator or Ms. Amy St. Arnaud if this cost is a barrier for you.