The final Nashoba Tech Athletes of the Month of the 2020-2021 school year are Matthew Collins, Anthony DeBenedictis, Lindsey Parise and Adley Philips.

Matthew Collins of Pepperell is a 2021 graduate who was nominated by spring track coach Bruce Sullivan, who wrote: "Matt is an outstanding leader, captain and athlete. Matt not only excels in his events, but his leadership ability has helped to create a culture of excellence. The boys track team owes much of its success to the captains and seniors like Matt Collins."
Off the track, Matthew is an honor-roll student in the Engineering Technology program and was inducted into both the National Honor Society and National Technical Honor Society.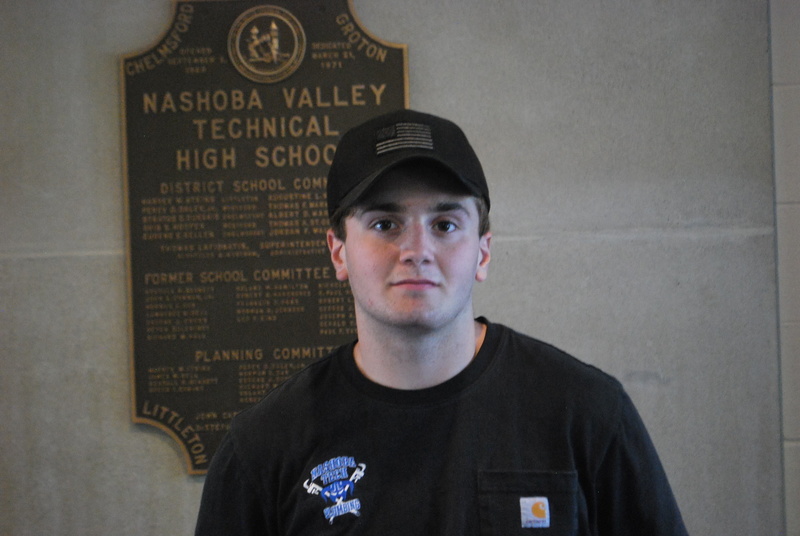 Anthony DeBenedictis of Chelmsford, son of James and Janie DeBenedictis, finished his sophomore year with a stellar wrestling season. He also plays football for the Vikings. He is an honor-roll student in the Plumbing & Heating program.
Coach Bill Corr wrote: "Anthony has taken his leadership role as captain of the wrestling team to the next level. He has shown the ability to learn quickly. Anthony is first to practice and makes sure the team is ready to go."
Lindsey Parise, a 2021 graduate from Townsend, was a star on the cheerleading squad for the Vikings and equally stellar in academics and in Health Assisting. Lindsey spent the final two years of high school as a student at Middlesex Community College, earning her Associate's degree through Nashoba Tech's Dual Enrollment program two weeks before graduating from high school.
At Senior Awards Night, in addition to being honored for her work at MCC, Lindsey received the President's Award for Academy Excellence and the Bemis Associates Scholarship. She was also inducted into the National Technical Honor Society and was a freshman mentor.
Adley Philips of Chelmsford, son of Dave and Erica Philips, is a freshman standout for the tennis team. He also plays basketball and football and runs cross-country. He is a high-honors student in the TV & Media Production/Theatre Arts program.
Tennis coaches Lynnsey Shaughnessy and Sayda Betsold wrote of Adley: "A strong player, Adley has been playing first singles this year for the Vikings. Adley is a polite and friendly team player who gives his all at every practice and in games. He demonstrates excellent sportsmanship on and off the court and is a leader among his teammates."